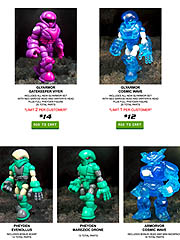 Chariot's Keep!
New Glyarmor/Vartyrex figures, a few Crayboth, and a lone new Armorvor sold out quickly.
Click here to see the June 6 2016 Onell Design drop menu
.
Click here
to order what's still available - the Orbitron
Outer Space Men
crossover sold out first, and boy howdy is it a beaut. Lots of other great designs are here too - check it out to see what's left!