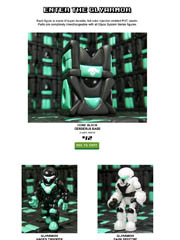 Enter the Glyarmor!
If you wanted to end the year with a bang, this is it - a new Glyarmor not only has a cool helmeted head, but also a Chozo-like bird head. It also sold out really quick.
Click here to see the December 15 2015 Onell Design drop menu
.
Click here
to order what's still available - at press time, it appears 11 of the 20 items remain.