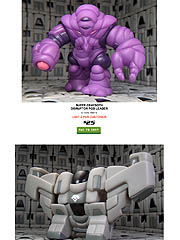 Return of the Rig Crew!
The Rig is back, as is the Super Crayboth. The Wolf Armorvor head is enjoying its last hurrah.
Click here to see the September 7 2014 Onell Design drop menu
.
Over 4 hours after launch, and the only two to sell through were the Crayboth Pulser and Crayboth Reverse Disruptor Elite. Many of the vinyl items are "low stock" so get while the getting is good.
Click here
to order what's left!